Looking for something to do this weekend in Austin? Here's a list of the 10 concerts and events happening in Austin.
5. Friday Night Flix
Friday Night Flix is showing The Great Outdoors on June 30th.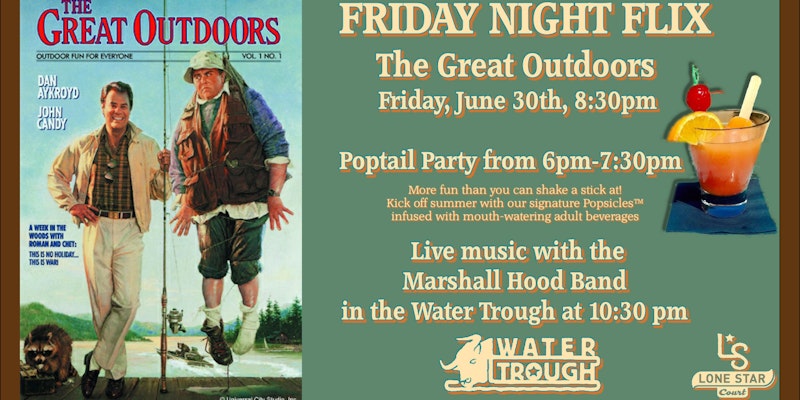 Friday Night Flix returns on June 30th with the classic comedy, The Great Outdoors!Grab your lawn chairs or blankets and join us in the courtyard, as we watch this hilarious movie on a huge outdoor screen.
We're starting things off at 6 pm with a Poptail Party – our signature Popsicles™ infused with mouth-watering adult beverages!
RSVP for FREE for a chance to win some awesome prizes: https://fnf-the-great-outdoors.eventbrite.com/
FREE one night stay at Lone Star Court!
HAPPY HOUR ALL NIGHT and a classic burger with fries and a soft drink for just $5 in the Water Trough Bar!The Marshall Hood Band will be performing live in the Water Trough at 10:30 pm, following the movie.
Where:  10901 Domain Drive, Austin, TX 78758 @ 6PM Friday June 30
4. SH!T FACED SHAKESPEAR

Shit-faced Shakespeare® is the deeply highbrow fusion of an entirely serious Shakespeare play with an entirely shit-faced cast member. Side-splitting, raucous and completely unpredictable, the show has been running since 2010 and has already entertained over 45,000 eager theatre goers across the UK. Having successfully completed multiple sell-out runs of the Edinburgh and Brighton Fringe festivals, the Magnificent Bastards made their way stateside in 2015 to Boston and have been enjoying a smashingly successful run since. In addition to Boston, Austin, Atlanta, and Saint Paul all have a crop of Bastards on hand to delight you each weekend.
Shit-Faced Shakespeare® seeks to introduce a new generation of theatre-goers to the works of the Bard by reviving the raucous, interactive and vibrant nature of Elizabethan theatre with a very modern twist – reminding them as we go to always enjoy Shakespeare responsibly. Where:  The North Door 502 BRUSHY ST AUSTIN, TEXAS 78702, Lounge Doors @ 6pm; Main doors @ 7pm
3. DOG DAYS OF SUMMER BENEFITTING AUSTIN PETS ALIVE
Load up the dogs and join Toss Pizzeria, Lofty Dog Pet Store, Hops & Grain Brewing, and Tito's Handmade Vodka in supporting Austin Pets Alive! We are holding an outdoor dog appreciation day featuring Kiddie Pools to keep the pups cool (cold beer and frozen drinks to keep the humans cool), giveaways, swag, dog treats, and of course PIZZA!! Lofty Dog just celebrated the grand opening of their South Austin location. Come check out their stuff and make it your go-to local pet store. Where: Toss Pizzeria & Pub.  2901 S 1st St, 78704 When: 2 – 6 PM
2. Independence Day Taco Revolution
Independence Brewing Co. and Tacos of Texas are coming together to launch Revolución Saison Ale and celebrate Tacos — the national food of Tejas.
First there was el book. Now there's la cerveza. The Tacos of Texas and Independence Brewing are taking the tacos to a whole 'nother level with Revolución Saison Ale. It's a perfect compliment to your carne asada, fajitas, carnitas or even tacos al pastor. So Tejas, join the Revolución and wash down your tacos with our Saison.
Where: Independence Brewing Company @ 3913 Todd Ln #607 , Austin TX, 78744
When: July 1, Saturday
1. 21ST ANNUAL CTBA BAND SCRAMBLE & GARAGE SALE
BRING YOUR INSTRUMENT, AND JOIN A BAND! OR, JUST COME TO WATCH & LISTEN!
All money raised from the Garage Sale & Scramble goes to the Central Texas Bluegrass Association, to help us in our mission to support bluegrass music in deserving youth.
July 2, 2017 from 2:00 to 5:00 PM at Threadgill's 6416 North Lamar
(Sunday, Independence Day Weekend!)
Have a Safe and Fun Independence Day Weekend